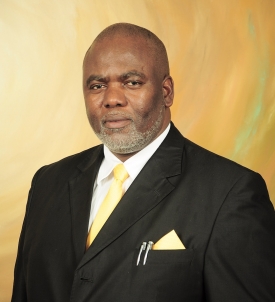 HEAD - Executive Secretary
Michael is an accomplished water resources expert with broad knowledge and experience in integrated water resources systems analysis and development, policy formulation and implementation, and proactive project/programme implementation. His engagement in ZAMCOM affairs dates back to the time when he served as the founding Executive Secretary from 2011 to 2013 of the Interim ZAMCOM whose secretariat was hosted by the Government of the Republic of Botswana in Gaborone. He brings along a wealth of experience that will bolster the ZAMCOM's aspirations of implementing its recently adopted dynamic and seemingly ambitious Strategic Plan for the Zambezi Watercourse (ZSP).
He holds an MSc. Hydrological Engineering with focus on water resources planning and management, post graduate Diplomas in Hydrological Engineering (specialised in Hydrological Modelling), and in Hydraulic Engineering – (specifically geared for upland Areas' Dam design), all obtained from the UNESCO-IHE, Delft, The Netherlands over a collective period of 4 years. Subsequently, Michael was accorded first recipient of the UNESCO-IHE Alumni Award, in recognition of being an alumnus who is at the height of his career and proven to be a role model for other water professionals by showing an outstanding contribution to water resources management. Since 1957 the Institute has provided graduate education to more than 23,000 water professionals from over 190 countries, and is a flagship institute in the UN-Water family. As from 2013 to 2015, Michael was appointed to serve as a member of the Governing Board of UNESCO-IHE, where he represented the interests of the Alumni in the Supreme Decision Making body of the Institute.
Earlier on in his career, in 2005, Michael was honoured with the Zayed International Prize, amongst world-wide scientists whose research contributed to the Millennium Ecosystem Assessment, together with the former UN Secretary-General, Late Kofi Annan. The Zayed Prize is the highest and prestigious environmental award honoured to date.
Michael has been inspired by the passion of humanity to give back, the resilience of people who face challenges with courage and the goodness in the universe. This has helped him to tune out of the negative news, look at the positive which exists in the world in abundance and work on solutions for good in tandem with his career. He believes that each of us irrespective of our profession has a lot to give back to make this world much better than we ourselves know. His prime hobbies are photography, music, swimming and cycling, amongst others.